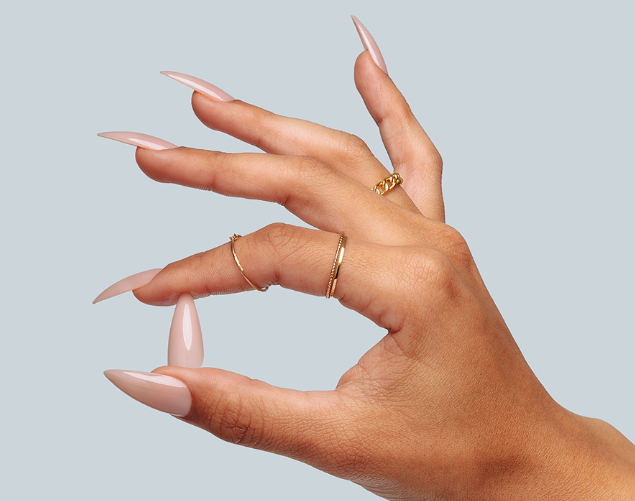 Get ready to glam up your nails with the stunning Gel X nails!
These trendy, long-lasting,
and chip-resistant nail extensions are all the rage on social media. Achieve flawless,
Instagram-worthy nails with Gel X, a revolutionary technique that combines a gel-based
formula with custom-shaped nail tips. Say goodbye to weak, brittle nails and hello to
durable, salon-quality nails that will make heads turn. Whether you prefer natural or bold
designs, Gel X nails offer endless possibilities for your nail art game. Experience the
ultimate nail transformation today and join the growing community of Gel X enthusiasts!
Japanese Gel Nails
Indulge in the exquisite beauty of Japanese gel nails, the latest sensation sweeping the
nail art world. Immerse yourself in a world of intricate designs, delicate details, and
flawless craftsmanship. Japanese gel nails offer a perfect blend of durability, elegance,
and creativity. Elevate your nail game with high-quality gel formulas that ensure
chip-resistant, long-lasting wear. From minimalist chic to elaborate embellishments,
Japanese gel nails cater to every style and occasion. Experience the meticulous artistry
of skilled Japanese nail technicians, renowned for their precision and attention to detail.
Unleash your inner fashionista and adorn your nails with the captivating allure of
Japanese gel nails.
Powder Dip
Discover the mesmerizing beauty of dip powder nails, the ultimate trend taking the nail
industry by storm. Achieve flawless, durable, and chip-resistant nails with this
revolutionary technique. Dip powder nails offer a wide array of vibrant colors, intricate
designs, and stunning finishes. Elevate your nail game with the convenience and
longevity of dip powder nails. Say goodbye to frequent salon visits and hello to
long-lasting wear that can withstand daily activities. Experience the ease of application,
as your nails are dipped into a fine powder and sealed with a protective topcoat.
Whether you prefer a classic nude or a bold statement, dip powder nails offer endless
possibilities for expressing your unique style. Join the growing community of nail
enthusiasts and enjoy salon-quality nails right at your fingertips.